Science Lab Mural
Sacramento, CA
Designed and painted for Leonardo da Vinci k-8 school (October 2023).
The art imagery was inspired by the cool science lab projects explored in k-8 class: looking at plants under a microscope, states of matter, fossilization/rock layers, bird migration, atom model, wind energy, astronomy, life science and genetics; science is all around us and in us, connecting us in ways unimaginable!
Mural honoring Abuelo | San Luis Potosi, MX
Designed and painted together with my husband, Pablo at his father's shop where he spent over the last decade, with doors open, serving and being part of a community of friends and family that miss him dearly (July 2023).
Taj Mahal Mural | Livermore, CA
A hand-painted mural, 30' wide sets a backdrop for fine dining at Taj Mahal Flavors of India in Republic Square at Livermore, CA. Showcasing the paradise garden and architectural detail of the ginger flowers found in the stonework of the Taj Mahal, India (June 2023).
Grand Strand Coffee | Myrtle Beach, SC
Incorporating the original art that existed on the wall of a single coffee plant painted by the owner's daughter. This mural showcases the natural beauty of the making of a coffee bean, starting from a single flower, becoming a cherry and forming the seed that we know of as the coffee bean (May 2021).
Housing 2.0 Chalk Art Installation

A public art project for the City of San Jose's 'Housing 2.0: Reimagining the Housing System in Silicon Valley' event on May 19, 2016, showcasing current statistics of stratospheric cost of housing in the South Bay. Custom designed infographics, and chalk art installation spanning the entire public courtyard in front of San Jose City Hall.
Designers: Pablo & Tracey Zavala | project for the City of San Jose Department of Housing | chalk art installed together with local community friends | special thanks to Wayne Chen and Gabriela Soto | Stencil Fabrication: Acrylonics, San Jose, CA
Location: San Jose City Hall (200 E Santa Clara St, San Jose, CA 95113) | Learn more here: Knight Foundation, Press Release, July 7, 2015
Mural Art for Nile Parking
A commissioned public mural in honor and celebration of the local Ethiopian community in downtown San Jose. Hand painted artwork on street-facing sides of ticket booth, including the interior surface of the welcome door.
Location: Nile Parking Lot (300 S 2nd Street in downtown San Jose, California)
Gore Park Art Installation
A temporary art installation at Gore Park, also known as Parque De Los Pobladores, in San Jose, California's SoFA District. A variety of seeds and grains, chosen as a natural, contrasting, and light to the environment art material used to create concentric circles symbolically representing the 7 chakras, and activating a public gravel pathway. A collaborative response to a drawing & mixed-media art class assignment shared with the community of San Jose.
Location: Gore Park (S 1st St & S Market St. San Jose, CA 95113)
Luna Park Chalk Art Festival
Chalk art installation for The Luna Park Chalk Art Festival and Luna Park Arts Foundation, a yearly event held in San Jose, California. In collaboration with gServe Gensler, we re-created one of my original paintings 'Off the Road To Paraty' as an enlarged 10' x 20' chalk installation benefiting K-12 arts programs in local schools in San Jose.
Location: Backesto Park (551 N 13th St, San Jose, CA 95112)
Learn more here: Luna Park Arts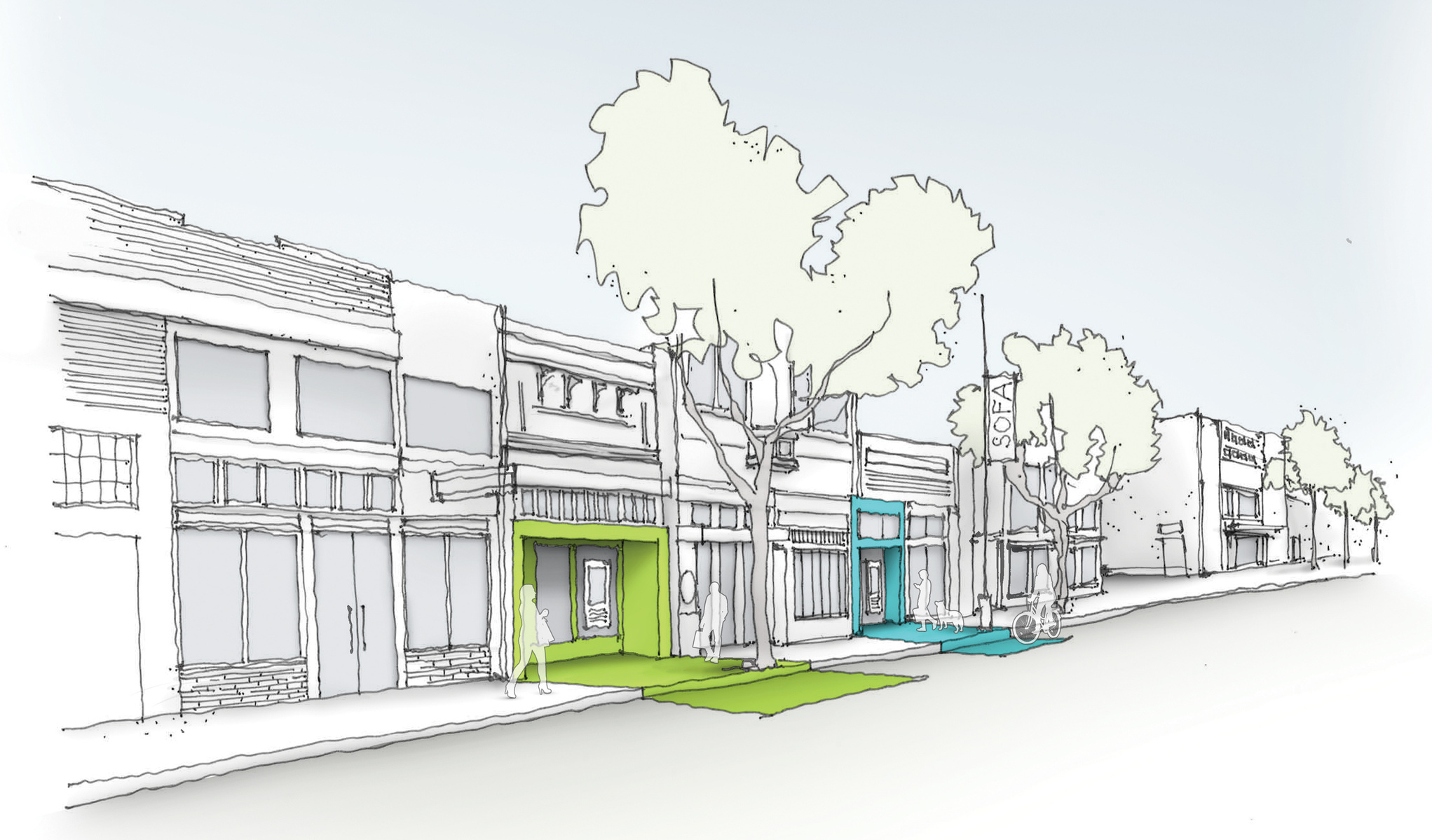 Redefining the Town Square
A research study completed in response to a Gensler firm-wide initiative, 'Redefining the Town Square', asking architects and designers to think about challenges present within their local communities. I led a team in the Gensler San Jose office to rethink the meaning of a town square for the city of San Jose. We focused within the downtown proximity: our goal to bring business and retail to the downtown core through bold color-graphics and info-sharing technology, "A Town Square in the Cloud". I presented this research at the May 16, 2013 Pecha Kucha 20x20 'My Design Vision for SJ' at the San Jose Museum of Art.
Location: San Jose, California | Learn more here: Gensler, Reimagining Cities/Year 1: Redefining the Town Square
Research Highlight: Featured in Tracings AIA Newsletter, October 2012.